Generator KDF7500Q – Koop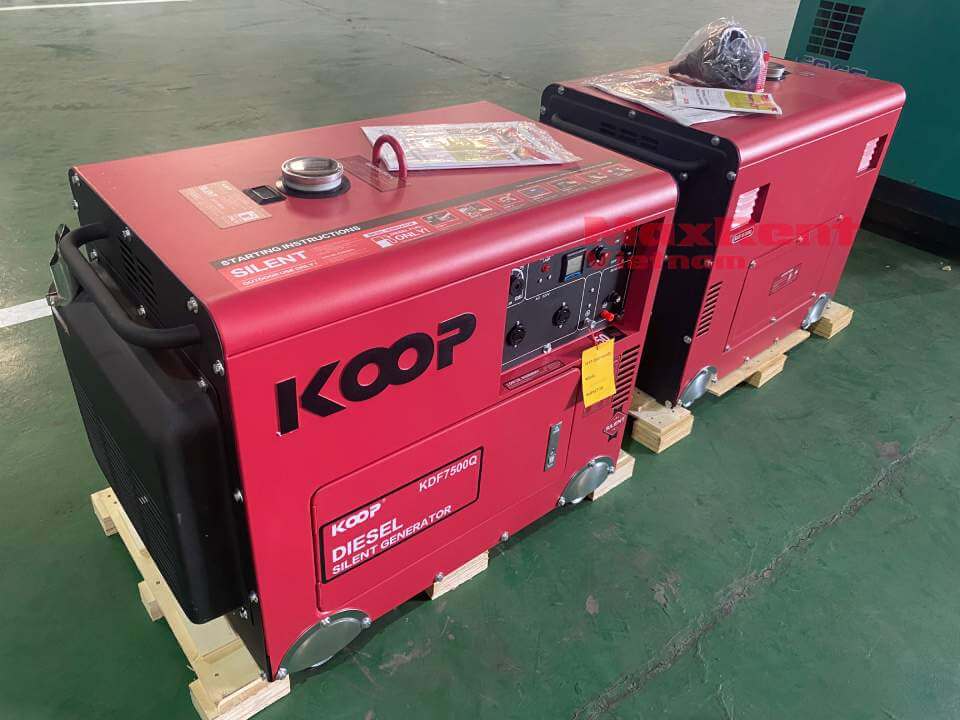 Feature
Powerful engine:  KD188FAE- 1-cylinder, 4-stroke, air-cooled engine, electric starter system with compression ratio 19.5: 1, rated rotational speed 3000 rpm generates rated capacity 6.6kw extremely powerful operation, fuel saving.
Smart control panel: the intelligent digital control panel includes voltage, frequency and running time display, making it easy for users to control, adjust and maintain the machine easily.
Effective noise-canceling enclosure: The mufler is constructed of special soundproof and sound-absorbing materials
Beautiful modern design:   Compact size and 151kg weight, the chassis is made of solid metal, the red powder-coated steel shell. Large fuel tank capacity, the machine can work for a long time. Ensure the machine has high durability, the trolley wheel design makes the machine easy to move.
Note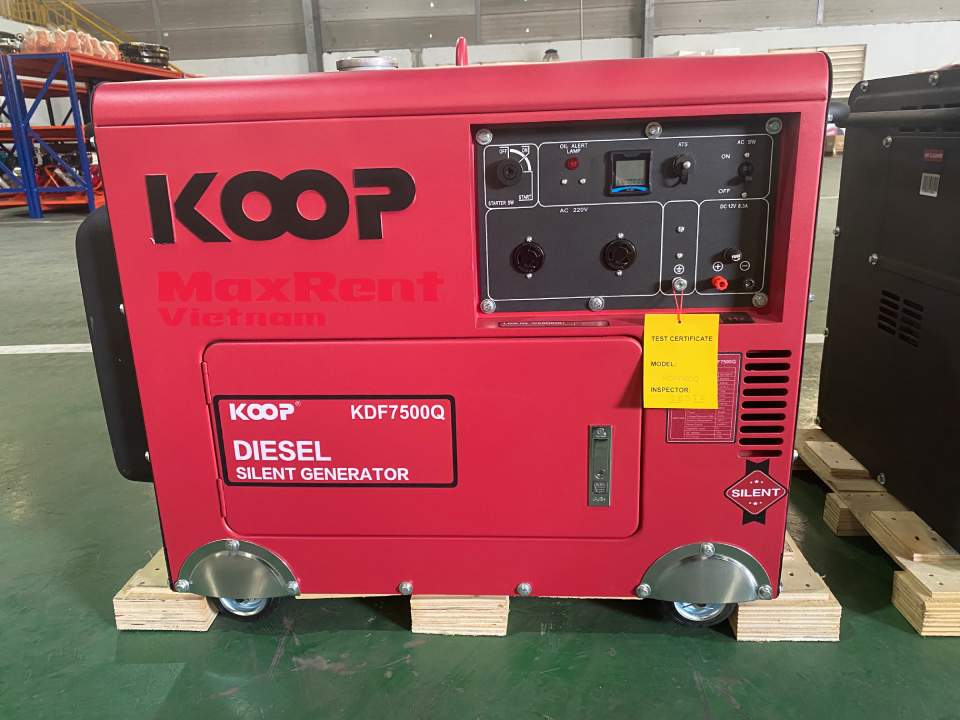 Không tháo bình ắc quy, bổ sung nguyên liệu và mở nắp két nước làm mát khi máy đang chạy.
Không cắm vào bảng điện chính trong nhà, cắm máy phát điện trực tiếp vào thiết bị mà gia đình muốn sử dụng trong lúc cúp điện
Không sử dụng ổn áp (suvolter ) để kích điện áp
Kiểm tra mức nhớt, nước làm mát theo chu trình, kiểm tra sự rò rỉ nhớt và nhiên liệu, độ căng dây đai quạt gió, thay mới nhớt và lọc nhớt, kiểm tra và vệ sinh sạch hệ thống làm mát, thay mới dầu nhớt và lọc nhớt
Đặt máy ở nơi thoáng, ngoài trời, tránh bị khói gây ô nhiểm
Do not remove the battery for adding fuel and open the cooling water tank cover while the machine is running.
Do not plug into the main electrical panel in the house, plug the generator directly into the device that the family wants to use during a power outage
Do not use voltage suvolter to stimulate voltage
Check the oil level, cycle coolant, check for oil and fuel leaks, fan belt tension, change oil and oil filter, check and clean the cooling system, change oil oil and oil filter
Place the machine in a well-ventilated, outdoor place to avoid polluting smoke
MAXRENT VIETNAM CO., LTD specializes in providing and leasing equipment such as scissor lift, boom lift, mini crawler crane, forklift, generator; and construction machinery such as drilling machines, vacuum cleaners, water pumps, …